What is a credit?
A credit is a kind of voucher that entitles you to a 100% free game of your choice. This game is yours to keep, even after your FunPass or FunTicket subscription has ended and will remain in your My Games list. 
As a FunPass or FunTicket (Duo) subscriber, you will receive 1 or 2 credits each month depending on your subscription type. Use these credits to buy any game you want that's yours to keep!
Why do I need credits if I have FunPass?
Games that you 'buy' with credits are yours to keep, even after your FunPass subscription has ended. That way, you can play your favorite games forever, regardless of whether you still have FunPass!
How many game credits do I need to purchase a game for free?
Standard games ($9.99/$6.99 USD) are 1 credit

Platinum games ($19.99/$13.99 USD) are 2 credits

Bundles consisting of more than 2 games are 3 credits
When do I get my next credit?
If you just subscribed, you will receive your very first credit as soon as we've received your payment. That may take up to 2 weeks. For every following month, you will receive your credit when your payment for that month has been made. 
Where can I see how many credits I have and their expiry dates?
1. Once you've logged into your GameHouse account, click on the My Profile tab located in the top right corner of the page
2. Under the My Profile tab scroll down to My Credits (located just under the My Memberships section). Here you can view information about your credits, how many you have and when they expire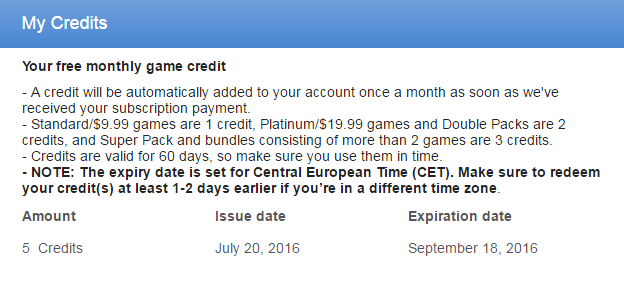 I haven't received my credit(s). What should I do? 
If you didn't receive your credit(s), please contact Customer Support and they will make sure your missing credit(s) are added to your account for you.
For instructions on how to use your credits, click here!
Any further questions? Please contact Customer Support as they're always ready to help!