How to play our games using your FunPass subscription
1. Download the game you'd like to play from our website by choosing the Play Now or Unlimited Play - FunPass option on the game page and wait until it's been installed.

2. In the game window, click on Play with FunPass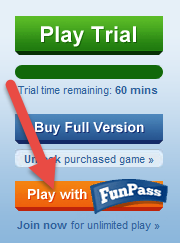 3. Fill in the current email address and password you use to sign into your GameHouse account and click on Sign In. Your game will start automatically.
Note: If you don't see the FunPass option in the game window or the game launches automatically, then you can select the Play Trial option and once you exit the game and then re-open it, you will then see the Play with FunPass option in the game window.